Stadsbygd and Its People • Stadsbygd og staværinger
<![if !supportLineBreakNewLine]>
<![endif]>
Stadsbygd (pronounced "STAHS-bygd in the local dialect) is a rural community in Sør-Trøndelag (South Trøndelag), central Norway, comprising about 1,500 people.  It is located at the southern end of the Fosen peninsula on the northern side of Trondheimsfjorden.  Staværinger is the Norwegian word for "people from Stadsbygd." Today, it is used to refer to people from Stadsbygd proper, just as, for example, people from neighboring Rissa and Åfjord are called rissværing and åfjording.  In this site, I am using the word to refer to people with some ancestral tie to Stadsbygd.  As of January 1, 2018, Stadsbygd is part of the municipality (kommune) of Indre Fosen, which also includes Rissa and its Hasselvika and Stjørna (formerly Skjørn) communities, and Leksvik.
<![if !vml]>

<![endif]>
Stadsbygd to southeast from Bliksåskammen, June 2003
(Photo courtesy of Børge Solem)
The old Stadsbygd parish (prestegjeld) included what today is known as Stadsbygd, Rissa and Hasselvika on the north side of the fjord (now, along with Leksvik, in Indre Fosen kommune) and Lensvik and Ingdalen on the south side (now in Agdenes kommune). In the past, it had a broader application. The rissværing, Johan Bojer, used staværinger in his classic 1921 novel, Den siste viking (published in English as The Last of the Vikings) for the fishing people of Sør-Trøndelag generally, including his beloved Rissa.  In an unpublished 1958 letter, he said he was following Lofoten speech (Lofoten is the prime cod fishing ground off northwestern Norway), which used the term for people "all the way from Bjørnør and in toward Innherred" (that is, from northwestern S-T to the districts around inner Trondheim Fjord).  The style of boats from the region, staværingsbåter (more properly called Åfjordsbåter), also got its name from this Lofoten usage.  There is a museum in Stadsbygd called Museet Kystens Arv (Coastal Heritage Museum) where you can see these boats being built just as they have been for a millenium.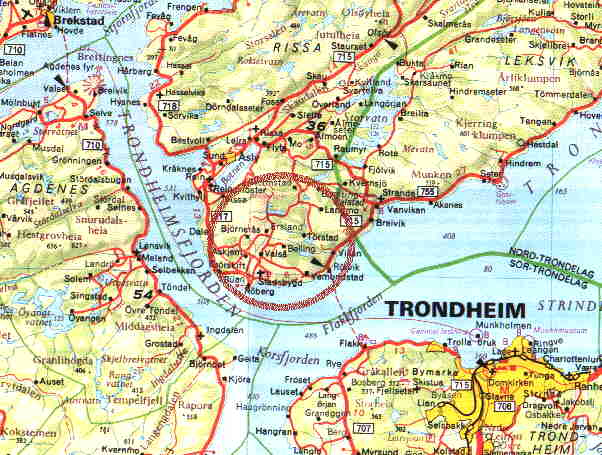 Geographically, Stadsbygd is located at 63.5° North latitude (similar to Denali/Mt. McKinley in Alaska, the northern end of Hudson Bay in Canada, southern Iceland, or central Siberia in Russia) and 10.0° East longitude (due north of Hamburg, Germany and easternmost Switzerland).  It is at the southern point of Fosen where the fjord bends to the northwest on the way from Trondheim to the sea. It is 13 mi. (21 km.) west-northwest of Trondheim and 247 mi. (397 km.) north of Oslo. To get to Stadsbygd from Trondheim, take the highway west of town along the fjord 13 kilometers to the Flakk ferry.  Take the ferry to Rørvik, which is in the eastern part of Stadsbygd.
Stadsbygd gets its name from Staðr or Stað (Old Norse spelling), the old (pre-1500) name for the southernmost point of Fosen which extends out into Trondheimsfjord and around which ships must pass on their way from Trondheim as they turn there northwesterly to the sea.  Stad means "place." Stad is also the name for other promontories in Sogn og Fjordane county, Norway and in Iceland. Bygd means "country settlement that usually forms an administrative unit (parish, township)." In Norway, Stadsbygd is often referred to as Stadsbygda or Stadsbygden (the Stadsbygd).
Most of what I know about Stadsbygd and staværinger comes from several visits since 1986 ; from the novels of Johan Bojer, who wrote from his knowledge of the lives of people in the district; and most especially from books written by my late 3rd cousin (firmenning), Kristoffer Rein, Stadsbygd: Ei bok om bygda og folket fra fjern fortid og fram til 1980-åra (a four-volume history or bygdebøker of the farms of Stadsbygd since the Reformation, published between 1981 and 1988) and, with Kjell Dahle, Stadsbygd Sparebank: Bank og bygd i 100 år (a history of the township and its bank, published in 1992).
<![if !vml]>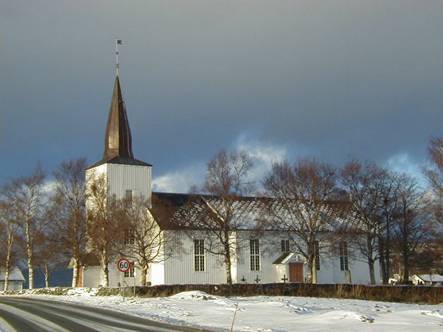 <![endif]>
Stadsbygd kirke, March 2001 (Photo by Dennis Haarsager)
As is the case in most rural communities around the world that have been settled for centuries, staværinger are interrelated. If you can trace an ancestor to Stadsbygd, the chances are excellent that we are at least distantly related.  Thanks to Kristoffer's bygdebøker and help from several other staværinger in the United States, I now have a Family Tree Maker file of over 21,600 names (the online surname list usually runs a bit behind).  A limited version of this database can now be accessed and searched from this site (Stadsbygd Genealogy).
-- Dennis L. Haarsager, Kittery Point, Maine, USA
Updated 4 Feb. 2018
---