Stadsbygd's Boats
Staværingsbåter
The Stadsbygd parish (Stadsbygd, Rissa, Hasselvika, Lensvik, Ingdalen) was home to many, many fishermen and also builders who crafted fishing boats called staværingsbåter (more properly called Åfjordsbåter) some still in use today.  The rissværing author, Johan Bojer, writing in an unpublished 1958 letter, said he was following Lofoten speech (Lofoten is the prime cod fishing ground off northwestern Norway), which used the term staværinger for the fishing people "all the way from Bjørnør and in toward Innherred" (that is, from northwestern S-T to the districts around inner Trondheim Fjord).  The style of boats from the region, staværingsbåter (more properly called Åfjordsbåter), got its name from this Lofoten usage.
There is a museum in Stadsbygd called Museet Kystens Arv (The Coastal Heritage Museum) where you can see these boats being built just as they have been for a millenium.
<![if !vml]>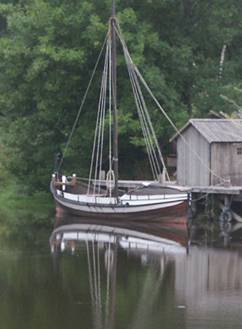 <![endif]>
This page talks about two of the boat builders, Johan Arnt Olsen Leinslie (1844-1929) and Ove Jonsen Bliksås (1855-1916).
Johan Arnt was a Stadsbygd native who worked as a fisherman in the winter and boatbuilder in the summer. He built several boats, 24 of which are listed on page 631 of volume I of Kristoffer Rein's bygdebøker. He used two of these boats, the Leinslibåten (the Leinsli boat), built in 1871, and the Sions Løve (Zion's Lion), built in 1894. Johan Arnt was captain of the Leinslibåten and his oldest son, Ola (1865-1934), was captain of the Sions Løve.
Ove was born at Sørvik in Haltvikan (part of the old Stadsbygd parish, now part of Rissa). His wife, Nikoline Obertsdatter Pukstad, was from Stadsbygd, and in 1900 Ove and Nikoline moved to Bliksås in Stadsbygd, where he continued his boatbuilding profession. According to his records, he built 313 boats: 37 storbåter (big boats), 46 fembøringer (Nordland boats with five pairs of rowers when the mast was up, otherwise six), 57 halvfjerrømminger [translation?], 31 seksæringer (boats with three pairs of oars -- e.g., the Rein below), 96 færinger (four- or six-oared boats), 32 joller (dinghies or dorries), 9 fyringer [translation?], 3 vorpbåter [translation?], and 1 skeise [translation?].
One of Ove's boats, the Rein, is at the San Francisco National Maritime Historical Park (link below). It was displayed at the 1998 Norway Day Festival in San Francisco, which provided the following description:
"Seksæringen REIN was built in Stadsbygd, Norway in 1905 by Ove Bliksaas. REIN is a fishing boat for a crew of three, an open longboat with six oars and a square sail. This common Viking boat design was still being built in parts of Norway into the twentieth century. REIN is built of spruce, length 23 feet, beam 5.3 feet, drafts 1.5 feet and weight 350 pounds. Sail ballast is 250 pounds of rocks.
REIN was built for winter cod fisheries at Halten Island in the North Atlantic off the central coast of Norway. It was in use every winter from 1906 until 1940, usually towed from Stadsbygd to the Halten by a steamer. It was rowed out every morning following the fish by sail and oars alone. With one fisherman at the oars to keep stationary, two would use simple fishing lines. They could haul in up to 500 pounds of cod (skrei ready to spawn) on a good day.
REIN remained in the boat shed from 1940 until 1965 when it was moved outside and left to rot. It was later discovered, purchased and restored. In 1985 REIN participated in a modern "Viking-invasion" of York, England together with four other longboats from Norway. The following year REIN was back in York participating in, and winning, the forst Jorvik Viking Longboat Rowing Race. The Viking boat race on the river Ouse is an annual event.
REIN was brought to San Francisco in 1996 for use and display. It is berthed at the San Francisco Maritime Museum's Hyde Street Pier. On a voyage to Catalina Island off San Pedro in February of 1997 REIN was used to save a man that had capsized his boat 12 n. miles off short and was drifting off into the Pacific. It has also been used by actor Robin Williams in his new movie What Dreams May Come.
The 93-year old REIN is one of the oldest boats in original and seaworthy condition in California."
Staværingsbåter may be seen at the Coastal Heritage Museum in Stadsbygd, at the Norwegian Maritime Museum in Oslo (the Firing from Åfjord), and at the San Francisco National Maritime Historical Park (the Rein, above).
Updated July 27, 2003