Johan Bojer
Born Johan Christoffer Hansen
6 March 1872-3 July 1959
<![if !vml]>

<![endif]>Johan Bojer was a popular Norwegian novelist and dramatist who often wrote of the lives of the poor farmers and fishermen of Trøndelag, the region around the Trondheimsfjord which includes Stadsbygd and Rissa. Bojer's novels provide valuable information about the life there in the late 19th and early 20th centuries.  If you're ancestors are from Trøndelag and want to know about the lives of your grandparents, read The Emigrants, The Last of the Vikings, The Great Hunger, The Everlasting Struggle, and others.
His novel, published in English as The Emigrants, also provides a background on the lives of these people who emigrated to North Dakota in the 1880s, many of whom settled in La Moure County south of Litchville.  It is said that Bojer visited the area in 1923 and interviewed people as research for this book, including my grandparents.  The La Chesnais biography of Bojer includes a picture of Bojer on this trip to America with the novelist Upton Sinclair and actor Douglas Fairbanks.  Bojer's characters are often given place names from the region in which he grew up (e.g., Flata, Myran and Trøen).
In his writings and actions, he leaves the impression of being a nice man who cared about common people, his roots in Rissa, and his family.  He provided college funds for his half-brother, the actor Sophus Dahl, even when the latter decided to pursue a life in the theatre instead of the original plan to study engineering that Bojer is said to have favored.  He also provided funds for building the church at Rein in Rissa and for building the square-sail boat, Den Siste Viking.  Family was important to him.  He was proud of the accomplishments of his children and kept contact, even late in life, with at least one of his foster brother's sons who had emigrated to America.
Bojer's Roots
Johan Bojer was born Johan Christoffer Hansen in Ørkedalsøren, Orkanger, Sør-Trøndelag, about 19 miles (30 km) southwest of Trondheim, to Johanne Iversdatter Elgaaen (16 December 1845 to 3 August 1884) from Femundsjøen, Engerdal, Røros, Sør-Trøndelag (now part of Hedmark), about 115 miles (185 km) southeast of Trondheim.  Johanna's parents were Iver Johnson Elgaaen (1812-1876) and his wife Ane Sophia Olsdatter Unsgaard (1812-1888).  She had four brothers and three sisters born between 1841 and 1858.  Johanna was the fourth child.
In Johan's christening record from Orkanger, Orkdal parish, 7 April 1872, Johan's father is recorded as Hans Böier from Christiania (now Osl0).  In his confirmation record from Rissa, Stadsbygd parish, 2 October 1887, his father is recorded as Hans Boier from Kristiania.  In his According to his biographer, Ræder (below), Johan's father was one Hans Bojer, 1822 [sic]-1894.  Bojer's daughter, Thora Vaa (below) identified his father as a customs official named Hans Pauls, and relatives of Johanna Elgaaen identify him as Hans Paulsen.  In public records, we find that he used both names, Paulsen in early records and Pauls in later ones (1875-1894).  He was born Hans C. Paulsen in Eidsvold parish, Akershus county, Norway in 1823 and died in Kristiania in 1894.  Eidsvold church records for 1823 were destroyed by fire, so we do not know who Hans's parents were.  He had an earlier military career as a non-commissioned officer and was listed as a master sergent in the artillery in the 1865 census and used the name Paulsen at that time.  Hans Paulsen was married twice, first to Johanne Christophersdatter, born in 1815, and later to Hanna Frisch, born in 1839.  Hans and his first wife had four children, also half-siblings of Bojer:  Kristine in 1849, Agnes in 1852, Ferdinand Emil in 1855, and Helga in 1857.  Hans's family is shown in the 1865 census and in the 1875 census.
Some reports have Johanna moving to Trondheim at age 17.  In 1865, she was working there as a servant in the home of Ole Anton and Wilhelmine Erike Drejer.  Six years later, she was working as a hotel maid in Trondheim when she met Hans.  Hans lived in Kristiania (Oslo) but was apparently in Trondheim on business, for how long a period we do not know.  It is likely that he was a widower at this point (his first wife is shown in the 1865 census but not the 1875 census).  We know little of the relationship between the parents in Trondheim except that Johanna got pregnant.  When the baby's term was up, Johanna went to Orkanger to deliver the child.
After the birth, she went back to work in Trondheim.  According to Johan's daughter, Thora, Hans made arrangements for her to work in a retail dairy.  She became unable to keep Johan with herself and gave the boy up for foster care.  When he was almost two, he was with a married couple who worked during the day.  He was left alone much of the time and screamed constantly.  A farm lodging was nearby and word got out about the "howling brat," about whom eventually Randi Fætten heard.  She couldn't stand the thought of this going on, so sent her daughter (probably the oldest, Maria, who was about 19 at the time) to Trondheim where she arranged for the boy to come to Fætten at Rissa (17 miles/27 km northwest of Trondheim and the same distance north of his birthplace in Orkanger).
According to Thora, Johan and "mor Randi" bonded instantly.  She was described by Thora as a woman who people in Rissa depended upon for various arrangements (e.g., weddings and funerals), and probably for occasional remedies for illness as well.  Although deeply religious, in the evening she also liked to sit by the stove and tell stories of gnomes and pixies and sea-trolls.  For the rest of his childhood, Johan was raised by Randi and her husband, Elias Fætten in Rissa, part of the Stadsbygd parish.  Elias was a husmann (cotter or tenant farmer without his own land).  Bojer's novel, Folk ved sjøen (published in English as The Everlasting Struggle) was modeled on Fætten, one of a number of small farms that were part of the Reinskloster estate.  The Fættens had three daughters and one son of their own born between 1855 and 1862 (the youngest was ten years older than Johan).
When Johan was five, his mother Johanna had another son, christened Oliver Sofus Pettersen Dahl (Sophus Dahl) in January 1878.  He was born Horg subparish of Støren parish, Sør-Trøndelag, in December 1877.  In 1900, Sophus, as he was then called, was living in Kristiania (Oslo) and worked as an actor in many plays and films.  His father was named in the Horg christening as Petter Dahl from Trondheim.
By the arrangement of his birth father, from 15 to 18 years of age, Johan worked in service with Andreas Johnsen Fallin (born Hans Andreas Jonsen Denstad), a prosperous farmer in Rissa.  The father, who provided financial support for his upbringing, also arranged for Johan to attend Dybdahl's county school in Selbu (1887) and non-commissioned officer's school in Trondheim (1890-92), apparently in an effort to interest the young man in following his first career as a sergeant.
<![if !vml]>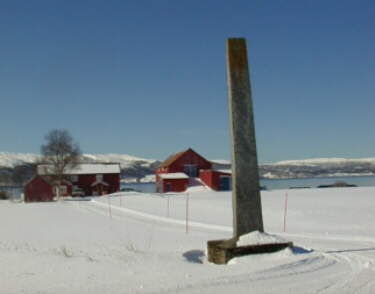 <![endif]>
Johan Bojer's boyhood home on the fjord at Fætten, Rissa
Photo: Dennis L. Haarsager
The old Rein church near Reinskloster burned shortly after Bojer was confirmed there in 1887. Later, as a successful writer, Bojer helped restore the church, which is now also known as "Bojer kjerke," to its original condition.  He also created an endowment for support of the church with stock in the publisher, Gyldendal.  Part of the library in Rissa is devoted to Bojer.  The two bells in the church are dedicated to his foster mother, "Mor Randi," and his wife, "Mor Ellen."
<![if !vml]>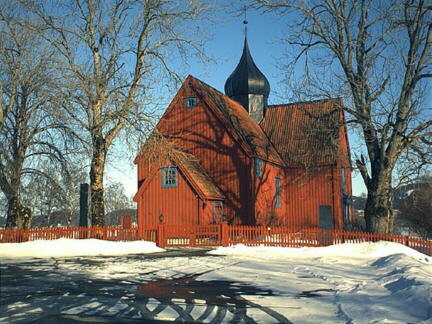 <![endif]>
Bojer church at Rissa
Photo courtesy P5 Fosen Radio
Bojer did not adopt his surname until after the death of his natural father in 1894.  He had published his first novel under the name Johan K. Hansson.  Bojer and Boier are common names in Denmark, where Johan traveled for an extended visit on the proceeds of his first literary sale, so one plausible explanation is that his father's ancestors were Danish with that family name.  It is a mystery why his father did not use it in available public records.
Bojer married Ellen Lous Lange in 1899.  They had three children, Thora Bojer (Vaa), born in 1902, Randi Fætten Bojer (Godal), born in 1903, and Halvard Lange Bojer, born in 1905.
End of Life
Two unpublished but very literate letters and daughter Thora's short biography (see References below) provide a glimpse of Bojer's character and feelings that he had led a rich life.  The letters are reproduced below with the kind permission of their owner, Jane Wikan Slater, daughter of the addressee, Johan Eilert Wikan of Petersburg, Alaska.  He was the son of Bojer's foster brother, Johan.  [The English translations are by Dennis L. Haarsager, Karen Husdal Brevik and Aud Haarsaker.]
Hvalstad 3.1.58
Kjære Johan Eilert
I grunnen heter du vel etter min kone og
meg så det var naturlig at du endelig sente
meg noen ord.   Det har jo gått dere gutter fra
Fætten så godt siden dere kom til Alaska,
men det skyldes vel at dere alle henge
i og ikke rangler på kaféer, og ellers i
alle deler oppfører dere vel. Jeg husker
at jeg tidligere har hørt om at du ikke
var heldig med valg av kone, og det
samme var vel tilfellet med Elias.
Ja, det er et lotterispill dette med ækte-
skapet, og somme er heldige og andre
ikke.  Mine tre unger har alle været
svært heldige og har selv allerede fått
voksne unger.  Tida går merkelig fort,
jeg fyldte 85 i mast, og nå om et
par måneter er jeg et år mer. Da nermer
resan seg de hundre, og jeg synes det
nesten er uhøflig mot de yngre å leve
så lenge.
                Seneste høst var det 25 års jubile-
um for kirka på Rein (siden den
ble ferdig og innvidd altså) Og jeg var
for skral til å dra der opp, men bis-
pen preket i fuld stas for fuld kirke,
og siden hold kommunen middag
for noen utvalgte.  Jeg sjøl fikk jo
takk og helsing pr telegram.  Jeg
skulle ønske at jeg fikk oppleve å komme
nedtil Rissa enda en gang, og den
pletten jeg særlig er gla i er kirka og
kirkegården på Rein, og det er vel fordi jeg
fra barndommen har så mange minner
derfra  Det er vel annerledes for dere yngre,
som fikk kirka på Føll.
                Ola Bruvollen som har ringt
i den kirka, i 25 år, døde for en måneds
tid siden, han var min siste venn fra
barndommen  -  alle de andre ligger
på kirkegården. Bisettelsen av ham
ble usedvanlig, kirka ble opplyst
og pyntet med blomster, og to prester
var tilstede og forretted.  Det var ikke før
fuldt så mye stas, dengangen en
husmann skulle føres til det sidste
hvilested.  Mye har i sandhet forandret
seg til beste for menigmann.
                Jeg ser av brevet ditt at du tenker
på en ny tur til Norge, og ingen ting
skulle glede meg mer enn om
jeg kunne få se en av dere igjen.
                Andreas, min gudsønn, skriver
iblant til meg, og det er stor stas
når jeg får et brev fra ham.
                Min sønn Halvard er blitt
statssekretær, det er en slags vise-
minister, og det er en stor og fin stilling. 
Og det gleder jo en far å se , at
det går hans unger godt.
                Nå må du hilse dine brødre
fra meg, og ellers ønsker jeg deg
og dine et godt nytt år.
                                               

Din

venn
                                                Johan Bojer
After all, you were probably named after my wife and me, so it was natural that you finally sent me some words.  It has certainly gone well for you boys from Fætten since you got to Alaska, but it 's probably due to the fact that you work hard and do not carouse in cafés, and otherwise in all ways behave yourselves.  I remember that I previously have heard that you were not fortunate in your choice of wife, and the same was probably the case with Elias.  Yes, marriage is a game of chance, and some are fortunate and others not.  My three children have all been very fortunate and already have grown children themselves.  Time goes remarkably fast. I turned 85 in March, and now in a couple of months I will be a year older.  Then the journey approaches the hundred years, and I think it is almost discourteous towards the younger ones to live so long.
Last fall was the 25th anniversary for the church at Rein (since it was finished and dedicated, that is).  And I was too poorly to go up there, but the bishop preached in full finery for a full church, and then the municipality gave a dinner for some selected people.  I myself got got thanks and greetings by telegram.  I should wish that I was able to come down to Rissa one more time, and the spot I especially love is the church and the cemetery at Rein, and that is probably because I from childhood have so many memories from there.  It is probably different for you younger ones, who have had the church at Føll.[1]
Ola Bruvollen, who has rung[2] in that church for 25 years, died about a month ago.  He was my last friend from childhood - all the others lie in the cemetery.  His funeral service was extraordinary, the church was brightly lit and decorated with flowers, and two ministers were present and officiated.  Earlier, there were never so many decorations when a tenant farmer should be led to his final resting place.  In truth, much has changed for the better for the common man.
I see from your letter that you are thinking about a new trip to Norway, and nothing would please me more than if I could be able yo see one of you again.
Andreas, my godson,[3] writes me occasionally, and it is a great pleasure when I receive a letter from him.
My son Halvard has become undersecretary, it a sort of deputy minister and it is a big and important position.  And yes, it pleases a father to see that his children do well.
Now you must greet your brothers from me, and otherwise I wish you and yours a Happy New Year.
Your friend
Johan Bojer
Notes:
[1] The other church at Rissa.
[2] The bells in the church at Rein in Rissa.  Bojer named one after his wife Ellen and the other after his foster mother Randi (Mortensdatter Nebb) Fætten.
[3] The addressee's brother.
Hvalstad 12.3.59
                                Kjære venn
                Hjertens takk for det hyggelige brevet. 
Og  lykke til med det nye ekteskapet.  Det
gleder meg i høy grad at du endelig har
funnet lykken.
                "Den siste viking" har jeg bare et eneste
eksemplar av på engelsk.  Jeg tror boka
i mange år har været utsolgt både
i England og Amerika.
                Nå driver ungdomslagene i Rissa
og Stadsbygd prosess om hvem av de
to lagene som skal få oppbevare båten
Dommen faller i mai, og det blir
spennende.  Rissa skal, ifald de
vinner, koste et forsvarlig naust
til båten. 
                Dette med filmingen er svindel
En direktør Kielland i Tr.heim fikk
av meg lov til å ta opp film hvor-
dan råseilsbåtene går over stag, men
da han først slapp til utvidet han
det til å vise avseiling og folket
som står i fjæra og ønsker lykke til
på reisa.  Det vil si at min literære
eiendomsrett er stjålet.  Det skal
han nok få svie for.
                Personlig har jeg været ganske
frisk i vinter, men når man
nærmer seg de 90 må man finne
seg i en og annen skavank.
                Vi har hatt flere dødsfall
i familien.  Randis mann, pastor Godal,
faldt,  rammet av slag, da han var
ute på ski.  Han var bare 54 år, så
hans bortgang var altfor tidlig.  Randi
sitter igjen med fire barn.
                Og i overmorgen begraver vi
Marie Lange, søster av min kone.
Hun ble 84, men har i det siste
året været mer eller mindre util-
regnelig.
Sånn plukkes vi bort, den ene etter
den andre, og snart blir det vel
også min tur.
                Jeg kan se tilbake på et rikt liv,
som jeg er meget takknemlig for.
                Tenk, om jeg hadde været yngre,
så ville jeg tatt en tur og besøkt
dere i Petersburg.
                Men hvem er han dere kaller Ed,
og som bor i Seattle?  Er det Elias? 
Hvem det nå er, så går jeg ut
fra, at han står dere nær.  Og
det er jo sørgelig at han er rammet
av kreft.
                Så må du og din frue ta en
hjertelig hilsen, og likeså må
du hilse dine brødre.
                                                Din hengivne
                                                Johan Bojer
Hvalstad 12 March 1959
Dear friend
Sincere thanks for the pleasant letter.  And much joy in your new marriage.  It pleases me greatly that you finally have found happiness.
I have just one sample copy of "Den siste viking" in English.  I believe the book has been out of print for many years both in England and America.
The young people's societies in Rissa and Stadsbygd are now busy with litigation about which of those two groups shall get to store the boat.[1]  The judgment comes in May, and will be tense.  Rissa will, in case they win, bear the cost of a proper boathouse for the boat.
This with the movie making is a swindle.  A director Kielland in Trondheim, got my permission to make a movie about how the square-sail boats put about, but when he got the chance he enlarged it to show the boat depart and people standing on the shore and wishing bon voyage.  That means that my literary ownership was stolen.  He will definitely suffer the consequences for this.
I have personally been fairly healthy this winter, but when one approaches 90, one must accept some weaknesses.
We have had several deaths in the family.  Randi's husband, pastor Godal fell while out skiing, struck by a heart attack.[2]  He was only 54 years old, so his death was much too early. Randi is left with four children.
And the day after tomorrow we bury Marie Lange, sister of my wife.  She was 84, but has during the last year been more or less of an unsound mind.
Like that we slip off, one after another, and soon it will probably be my turn.
I can look back upon a rich life, of which I am very thankful.
Think, if I had been younger, then I would have taken a trip and visited you in Petersburg.
But who is the one you call Ed, that lives in Seattle?[3]  Is that Elias?  Whoever that might be, I presume that he must be close to you.  And it is sad that he is stricken with cancer.
A cordial greeting to you and your wife, and so you must also greet your brothers.
Sincerely yours
Johan Bojer
Notes:
[1] Den siste viking, a replica of the Åfjord style of open sailboat, sometimes called stavæeringsbåt, featured in the book of the same name. 
[2] Randi in this case is his younger daughter. 
[3]  Ed was the nickname used by Elias Wikan, brother of the addressee.
In the 1959 letter, Bojer looks forward to having the litigation in Rissa settled in May.  That must not have happened, because Thora writes that he traveled to his home district that summer to mediate the dispute (and apparently was successful).  However, he caught pneumonia, and on the way home had to be taken off the train at Oppdal to check into the hospital.  He died on July 3, 1959.
Bojer's Writings
Bojer's novels brought him fame in Norway and internationally (especially in France where he spent many years) on the par with contemporary Norwegian writers Knut Hamsun and Sigrid Undset (who wrote Kristen Lavransdatter, which also features Rissa in mediaeval times). Norwegian critics did not accord him the same respect as given the other two named, however.
Many of Bojer's novels were translated into English (and other languages) and are available in U.S. libraries. Only The Emigrants is currently in print (Sons of Norway Heritage Books, P.O. Box 379, Decorah, IA 52101-0379, 888-838-BOOK or 319-382-6511/fax 319-382-8828).
Bojer's great-grandson, Axel Bojer (grandson of Bojer's son Halvard), maintains web pages about him in the Norwegian language, including a complete list of his works (see references below).  My list of works by Johan Bojer (notes in green are reflections about those I have read):
• Unge tanker, 1893, novel published under the name, Johan K. Hansson
• En Moder,1895, play
• Helga, 1895, novel
• Gravholmen, 1895, play
• Et folketog, 1896, novel
• Olav den hellige, 1897, play
• Paa kirkevei, 1897, folk tale
• Rørfløitene, 1898, folk tale
• Den evige krig: en samfundsroman (The Eternal Strife), Kristiania: O. Norlis, 1899, novel
• Moder Lea (Mother Lea), 1900, novel
• Gamle historier, 1901, folk tale
• En pilgrimsgang (Pilgrimage), 1902 (New York: The Century Co., 1924), novel
• Theodora, 1902, play
• Troens magt (The Power of a Lie), 1903 (trans. Jessie Muir, New York: The Century Co., 1909, 1920; also published in London as The Power of Faith), novel
In brief: Powerful story about a well-regarded man who unintentionally gets caught up in a lie, but then goes to great lengths to perpetuate it -- successfully, in some ways.
• Brutus, 1904, play
• Hvite fugler, 1904, folk tale
• Vårt rike (Treacherous Ground), 1908, novel
• Troens makt, 1910, dramatization of the novel
• Kjærlighetens øyne, 1910, play
• Liv (Life), 1911 (trans. Jessie Muir, New York: The Century Co., 1911, 1920), novel
• Maria Walewska, 1913, play
• Fangen som sang (Prisoner Who Sang), 1913 (Toronto: Goodchild, 1924), novel
• Den franske fane, 1916, article
• Sigurd Brå, 1916, play
• Den store hunger (The Great Hunger), 1916 (trans. W. J. Alexander Worster and C. Archer, New York: Moffet, Yard & Co., 1919), novel.  Click the title to read this Project Gutenberg novel online in English.
In brief: Man achieves great success from humble beginnings, loses it all, then slowly discovers his "great hunger."
• Samlede romancer I fire bind, 1917, collection of plays
• Verdens ansigt (The Face of the World), 1917 (New York: Moffet, Yard & Co., 1919), novel
In brief: Radical doctor, obsessed with the human condition worldwide, finally moves to his mother's town by the sea and takes over the running of its hospital, and tries to "rescue" one troubled man.
• Dyrendal (God and the Woman), 1919, novel
In brief: A story of a clever man who is able to purchase a fine estate.  He and his wife take in her nephew as a son they couldn't have.  Finally, they give up their farm and return to modest circumstances.  Dyrendal was modeled after Flyta in Rissa, a farm owned by the State and given to the local commanding officer.
• Stille vær, 1920, stories
• Den siste viking (The Last of the Vikings), 1921 (New York: The Century Co., 1923), novel
In brief: Fishermen from Trøndelag spend winter in the Lofoten Islands chasing cod. The model for den siste viking is said to be Kristoffer Kvithyld of Rissa.
• Vor egen stamme (The Emigrants), 1925 (trans. A. G. Jayne, New York: The Century Co., 1925; also St. Paul: Minnesota Historical Society Press, 1991; also published in London as Our Kinsmen), novel
In brief: Trønder farmers emigrate to North Dakota in the 1880s.  Modeled after immigrants from Bojer's home district, Stadsbygd parish.
• Nye temple (New Temple), 1927 (trans. C. Archer, New York: The Century Co., 1928), novel
In brief: Siblings from newly-impoverished family are raised by prosperous foster mother.  The book follows their lives after her death; the sister taking over the estate, while the brother pursues a liberal view of religion.
• Samlede romaner I ate bind, 1927, collection of novels
• Folk ved sjøen (The Everlasting Struggle), 1929 (trans. Arna Heni and Louise Rourke, New York: The Century Co., 1931. Note: London edition: Folk by the Sea), novel
In brief: Cotter family ekes out a grim living at the edge of Trondheimsfjord. The cotter's place, Flata, in this book was modeled after Fætten, where he grew up in Rissa.
• Mens årene går, 1931, novel
• Ei mor, 1932, nynorsk edition of the play, En moder
• Huset og havet (The House and the Sea), 1933 (trans. Trygve Martinus Ager, New York: D. Appleton-Century Co., Inc., 1934), novel
In brief: Radical lawyer strains his ideals after becoming rich in the shipping business profiting from WW I.
• Dagen og natten (By Day and By Night), 1935 (trans. Solvi and Richard Bateson, New York: Appleton-Century, 1937), novel
• Kongens Karer, 1938, novel
• Gård og grend, 1939, stories
• Hustruen, 1941, play
• Læregutt.  Erindringer, 1942, autobiography, part 1
• Samlede romancer I fem bind, 1942, collection of novels
• Svenn, 1946, autobiography, part 2
• Skyld, 1948, novel
• Lov og liv, 1952, novel
• Fjell og fjære, 1958, stories
• Glimt og gleder, 1960, articles, speeches, recollections (published posthumously)
<![if !vml]>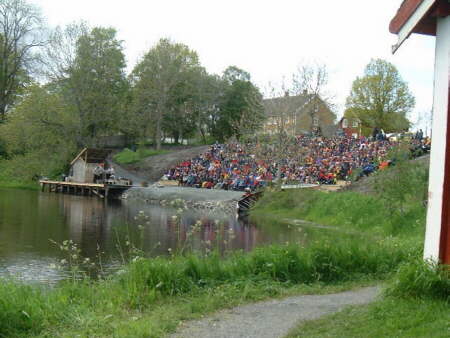 <![endif]>
Den Siste Viking play staged June 9-July 15, 2001 at Kystens Arv Museum, Stadsbygd
Photo courtesy Arne Langmo
References
Harald Beyer, A History of Norwegian Literature (trans. and ed. Einar Haugen), New York: New York
Axel Bojer, Johan Bojers biografi og forfatterskap, www.bojer.no/Axel/bojer.shtml and bojer.no/Axel/forfatterskap.shtml
Johan Bojer, letter (unpublished) to Johan Eilert Wikan, January 3, 1958
Johan Bojer, letter (unpublished) to Johan Eilert Wikan, March 12, 1959
Johan Bojer, Læregutt. Erindringer.  Oslo: Gyldendal norsk forlag, 1942
Sophus Dahl, Teaterminner. Fra Nasjonalturneens dager. Oslo 1959.
University Press for The American-Scandinavian Foundation, 1956, pp. 291-293.
Carl Gad, Johan Bojer: The Man and His Works, (trans. Elizabeth Jelliffe MacIntire), New York: Moffat, Yard and Co., 1920.
Theodore Jorgensen, History of Norwegian Literature, New York: Haskell House Publishers, 1970, pp. 469-483.
P. G. La Chesnais, Johan Bojer: Hans liv og verker, Oslo: Gyldendal Norsk Forlag, 1982.
Trygve Ræder, Johan Bojer og heimbygda Rissa, Oslo: Gyldendal Norsk Forlag, 1972.
Scandinavia Vital Records Index (compact discs), Family History Resource File, Intellectual Reserve Inc., 2001.
Thora Vaa, Min far Johan Bojer (booklet), Asker museum, 1999.
Acknowledgements
I would like to acknowledge with deep gratitude the invaluable and patient work of Karen Husdal Brevik in Orkanger, Norway, who over a year's time provided important research and translation assistance for this short biography of Bojer, and also to some of her familiy members whose recollections were very helpful.  Aud Haarsaker of Trondheim was also helpful in the translation.  I would also like to thank Jane Wikan Slater in Florida who provided access to two unpublished letters, written in 1958 and 1959, from Bojer to her father, Johan Eilert Wikan of Petersburg, Alaska.  Mr. Wikan, born in 1899, was the son of Bojer's foster brother (son of Randi and Elias), also named Johan (1862-1952).  Thanks also to Sharon Wikan of Petersburg, Alaska, also from this family (great-granddaughter of the 1862 Johan), who provided research assistance through access to additional unpublished letters.
Dennis L. Haarsager
Updated 24 April 2005, 9 September 2006, 29 October 2006, and 8 June 2007